King of Content 2 Shows You How To Create High Quality Content Fast!
King of Content 2 Extreme is the ultimate training and resource guide for creating a wide variety of high quality content faster and easier than you thought possible, and includes a super potent fresh content software.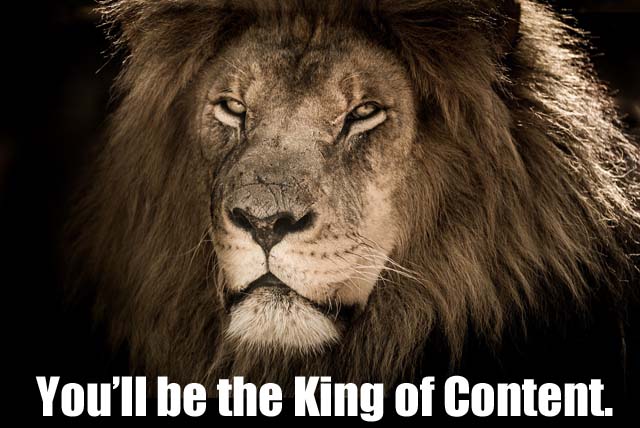 Why Create High Quality Content?
Let's face it…creating high quality content is time consuming!
It's GOT to be done…your audience loves fresh high quality content and so does Google.
Sharing good content on social media improves engagement, which makes our reach a lot bigger.
But it doesn't have to be difficult, especially when you have Kurt's "King of Content 2" to lead the way.
Why King of Content 2?
I know Kurt…he doesn't release products often, so when he does, watch out because you KNOW he's serious!
It's full of strategies, tricks, secrets and resources for creating a wide variety of content as quickly, easily and inexpensively as possible.
We all need good, high quality content. We use it to build websites and blogs. We also need content for email newsletters and for reports to encourage people to join our email lists.
In this unique and informative guide you'll find fast and easy tips for:
– The most SEO friendly content? Why you should use questions and how to discover the very best questions.
– Cheat Sheets – how to use Word to make them look great, plus quality cheat sheet resources.
– How to make more money by optimizing your content to get the highest possible revenue from your AdSense clicks.
– Why "Co-Occurrence", not LSI, is essential for Google ranking and an exclusive method for finding the most potent co-occurrence keywords and phrases.
– Plus three extremely beneficial resources for Reddit, Quora and Twitter few people know about to use for creating content about topics people really want to know.

This is just the "tip of the iceberg" (there is so much to delve into here!)
What's Included In the King of Content 2 Training and Guide?
Guide to LSI and using keywords – Most SEO "experts" don't really know what LSI really is. Not only will you discover what LSI really means, you'll learn how easy it is to use the most "Google-friendly" words possible in your content.
Intro to a free tool that's essential for everyone working on a computer, especially for people that want to create content.
6 Content Quick Tips – fast and effective suggestions for creating content that your folks will love.
Links to the best content resources on the Web, including content free content and keyword research tools.
How to uncover the most popular, shared and trending content so you know what people like before you create content.
How to make more money from your articles and posts using Adsense – We all are taught to optimize a page to rank in Google. But how about optimizing a page to produce the highest paying clicks from Adsense? Adsense can be very profitable, but you must optimize your pages for Adsense. Find out how to optimize your content to make the most from Adsense.
Cheat sheets are perfect to use as incentives to build your email lists and to give away as bonuses for affiliate products and your own products. Microsoft Word is the best and easiest software for creating cheat sheets. Included is a short video shows you how to use Microsoft Word to easily create good-looking cheat sheets.
Rediscover a Forgotten Resource – This site is perfect for free ready-made content for starting email campaigns and getting website traffic.
Discover a great free site that really helps you create content about content. Other services charge you an arm and a leg to do the same thing.

Google Docs Speech to Text Quick Tips – Here's my simple system for using Google Speech to Text to create content as effortlessly as possible.
Why "Co-Occurrence" is essential for Google ranking and my exclusive method for finding the most potent co-occurrence keywords and phrases.
A super-advanced keyword strategy that's easy to use that will greatly multiply the potential number of keywords and phrases your content can rank for without looking like you're "stuffing" keywords.
Private Label Rights (PLR) – 18 effective suggestions for using PLR (Private Label Rights) so you get the most bang for your buck.
Quiz Quick Tips – Quizzes can be a potent form of content and rank as the most shareable content in the Net. You'll find why it's absolutely essential to have these 3 features when selecting a quiz platform/plugin.
You'll also find 9 solid ways to repurpose content to get the ultimate results from your content.
Why using questions for content and SEO is an extremely powerful strategy and how to discover the bets ways to find and use questions.

3 beneficial resources from Reddit, Quora and Twitter few people know about or use to use content.
FYI there is ONE sales page, no upsells, because you get to choose the level you want right on the front end.
I really recommend the option that includes some really cool software called RSS Riot that is the best source for information I've seen in a long time. It finds and updates the highest quality information in all sorts of niches. The Internet Marketing resources alone are a must have and an essential secret resource for anyone interested in IM.
This offer is extremely under-stated to say the least but it's a true HIDDEN GEM.